Cleveland, OH-based Lake Graphics Label & Sign Company recently added a
Durst
Rho P10 HS Plus.
Last year, the company installed a Durst Rhotex 325.
"The Durst Rhotex 325 helped us to grow our business marking our entry into textile printing and providing clients added capabilities with the highest quality printmaking us a one-stop shop," said Mark Tangry, president, Lake Graphics Label & Sign Co., Inc. "The addition of the Durst P10 250 HS gives us even more capacity and flexibility depending on project load and with higher output equipment we can meet extremely tight deadlines."
Lake Graphics offers label, sign, and large-format printing services directly to corporate customers and also provides wholesale services to other printers in the industry that lack the digital capability and equipment.
"Several years ago, we purchased another manufacturer's printer. It had done its job, but the speed and quality limitations prevented us from taking on much larger opportunities," said Tangry. "The Durst P10 250 HS was a perfect solution for this. With double side print registration capability, superior roll handling for a hybrid machine, and 3-layer printing (color/white/color) it gives us all the flexibility we need with a significant increase in output and much better print quality in all modes."
The Durst Rho P10 250 HS Plus prints on both rigid and roll media. The Rhotex 325, awarded SGIA Product of the Year two years in a row, is a dual-purpose printing system that combines direct-to-textile printing with dye sublimation transfer printing technology. Depending on the application and fabric, this system can alternate between paper transfer and direct printing on polyester-based materials in no time.
"The Durst product is built to last and run 24/7. I feel that the premium price of the machine is more than made up for in longevity and total cost of ownership," said Tangry.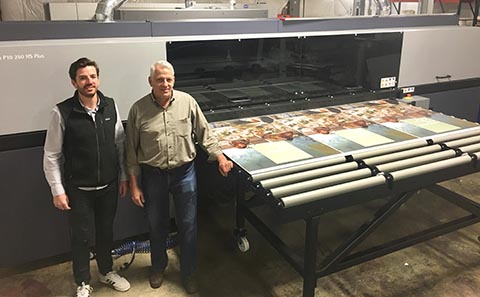 (Left) Michael Tangry, GM, (right) Mark Tangry, founder/owner.