Smurfit Kappa won 18 awards at the European Flexographic Industry Association (EFIA) Awards, including three Gold awards and a Special Award.
Creative and innovative packaging solutions for brands including Stella Artois, Head & Shoulders, Hendricks Gin, Huggies, Haribo and Kimberly Clark resulted in Smurfit Kappa receiving this wide spectrum of awards.
"Winning so many awards across the various categories this year demonstrates the huge effort across our talented teams and something we're all very proud of," said Eddie Fellows, CEO of Smurfit Kappa UK and Ireland. "At Smurfit Kappa, we are constantly innovating our print techniques to support our customers by increasing their visual presence and improving sales performance. We will continue to invest in the next generation of skilled printers and push the boundaries in print, design and sustainability"
Grace Stenson, who is currently completing her first-year apprenticeship in sales and marketing at the Smurfit Kappa Markham Vale plant in Derbyshire, was the winner of the "Student of the Year" award.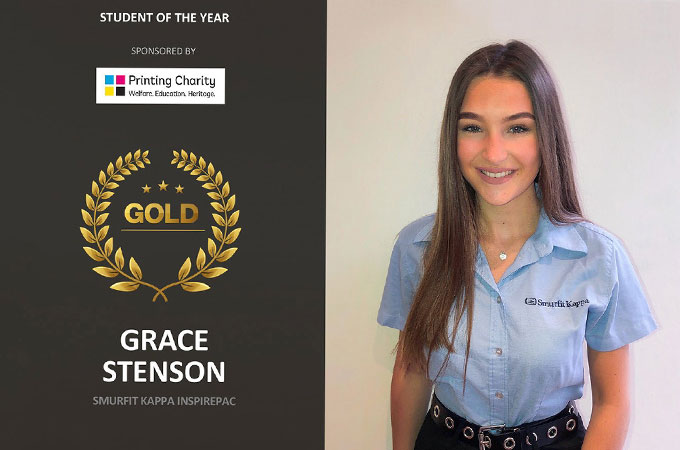 "I would like to thank the entire Markham Vale team for their welcome and the ongoing support during my apprenticeship, especially during this challenging time," she said. "Joining Smurfit Kappa has given my career an exciting start and I've enjoyed the opportunity to work with a variety of customers and brands across several market segments."
Full list of the EFIA Awards 2020 that Smurfit Kappa won
Special Award Student of the Year;

Gold Stella VBI 24 Pack;

Gold Mibelle Head & Shoulders;

Gold WD40 Spray Tin;

Silver Molson Canadian;

Silver Hendricks Wonder 6 Carton;

Silver Kimberly Clark Pure 6 Pack;

Silver British Ales;

Silver Hendricks Gin 12x1L;

Silver Haribo Eggs Galore;

Silver Instalight;

Bronze Stella Xmas 2019;

Bronze Muller Tiramasu;

Bronze Plasto Sac UK Royal Gala Apples;

Bronze Perky Pets Intro Pack;

Bronze Haribo Supermix £1 Promo;

Bronze Kimberly Clark Jumbo Pure;

Highly Commended Hendricks Orbium 6x70cl