The global ink additives market is projected to reach USD $2 billion by 2023, at a CAGR of 5.2% between 2018 and 2023, according to MarketsandMarket's report "Ink Additives Market by Type ( Dispersing & Wetting Agents, Foam Control Additives, Slip/Rub Materials, Rheology Modifiers), Process, Technology, Application (Packaging, Publishing, Printing), and Region - Global Forecast to 2023."

This growth is attributed to the growing demand for sustainable, low-cost, and safe additives which have led to the development of new additives and chemistries. Additives that offer excellent performance characteristics at reduced cost and have a lower impact on the environment are in the best position to capture the market. China, India, and other Southeast Asian countries promise increasing demand for ink additives owing to increased demand from major applications.

The increasing demand from applications, such as graphic art, publishing, inkjet, and UV inks, particularly in Asia Pacific, is driving the demand for dispersing & wetting agents. Dispersing & wetting agents are used in higher dosages in almost all types of inks, which leads to its high demand.

In terms of type, dispersing & wetting agents accounted for the largest share of the market, globally. Both these categories of additives provide several advantages. Dispersants help to stabilize the suspension of pigments in varnish. They assist in the dispersion of fine solid particles in the liquid phase. Whereas, wetting agents reduce the surface tension and improve pigment dispersion. High surface tension makes it difficult to wet the surface of substrates properly. Proper wetting of substrate is necessary for achieving excellent print quality, as when the surface is properly wet, the liquid spreads over the substrates evenly without forming droplets.

Ink additives are mostly used in printing inks that are used in the packaging application. Consumer awareness on health and wellness, the influence of environmental issues & recycling, and rising disposable income & consumer purchasing power are the three major factors driving the demand for packaging. Other factors such as branding, smaller package size, convenience, and urbanization further boost the demand for packaging. Flexible plastic packaging dominates the overall packaging industry. The growing middle-class population across Asia Pacific is expected to benefit the overall industry.

Asia Pacific is the largest ink additives market, in terms of value, followed by Europe and North America. Easy availability of raw materials and low-cost labor coupled with significant domestic demand make Asia Pacific one of the most attractive markets for the industry participants.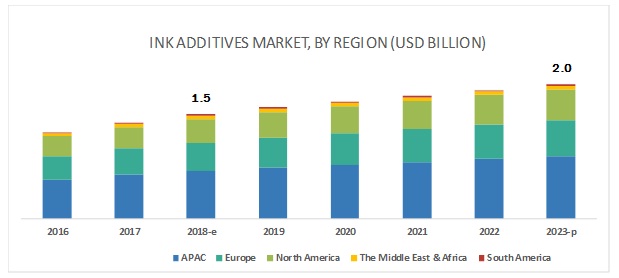 Solvent-based technology is used globally owing to its low cost. Solvents used during the process evaporates very easily owing to its high volatility and hence imposes minor problem with regard to migration of the ink on the substrate. Major manufacturing companies are focusing on all solvent-based products for gravure and flexographic processes. Water-based technology is preferred over solvent-based in developed countries such as the US and Germany, where there are stricter regulatory norms to follow. Solvent-based ink additives are still very common in economies such as China, India, Brazil, and Southeast Asia countries. The absence of stricter regulations benefits this technology in these regions.
The lithographic process segment dominated the overall market in 2017. These are also called offset inks. In this printing process, the image is printed on a flat metal surface then rolled on rubbers and finally on the substrate. This printing technology is recognized by its smooth print as well as lack of any improper impressions or rings that can be found in gravure and letterpress printing. Lithography is used for printing books, advertising, catalogs, cards, posters, direct mail inserts, packaging, coupons, and art. This technology is mostly used in non-food applications. Growing demand for paper boards and corrugated boxes for online purchase is expected to benefit the market.
The packaging application segment dominated the overall market in 2017. Packaging sales are expected to show growth in the emerging markets as both increased consumption and demand for consumer goods drives the need for more sophisticated packaging with the growing disposable income. Flexible packaging is gaining popularity owing to its convenience and easy handling techniques among the consumers. Flexible packaging is used across the food & beverages industry and for cigarette packaging. Growing online purchase is also expected to positively impact the demand for corrugated boxes and boards and further impact the demand for ink additives.