David Savastano, Editor

01.22.21



The world of printing is rapidly evolving, and ink industry leaders are working to keep up with the needs of their customers.

Rajesh Bhasin, joint president UFlex Chemicals Business, is helping UFlex meet these needs.
Uflex is India's biggest multinational flexible packaging materials and solutions company. The company reports sales of more than $1 billion globally, with UFlex Chemicals Business, its chemicals subsidiary, reporting sales of $110 million in packaging inks alone. UFlex Chemicals Business offers a variety of primers, topcoats, heat seal coatings, barrier coatings for PE replacements, water-based blister coatings, energy curable coatings, UV coatings, solvent-based matt and gloss coatings, UV LED coatings, water-based flexo and gravure inks, radiation-curable inks and more.
Bhasin has experience of more than 29 years of handling challenging and complex marketing assignments. Prior to UFlex, Bhasin has held leadership positions at Pidilite, Jubilant Organosys and Essel Propack. He is adept in setting up joint ventures, acquiring new businesses, launching new product categories and initiating brands. He is responsible for the Chemical Business at UFlex.
Ink World: What led to your joining UFlex?
Rajesh Bhasin: Joining UFlex was one of the easiest and finest decisions of my professional life. I could smell a perfect blend of a very positive and entrepreneurial work environment, combined with freedom, during my initial interactions here. This was was my primary motivation and am happy with my decision.
Ink World: How have the printing and ink industries changed in recent years?
Rajesh Bhasin: Shop shelves are crowded with products today, and with every brand vying for consumer attention, there exists disproportionate dependence on packaging material and design to draw consumer's attention. Content protection throughout the shelf life is fundamental and a given for packaging design. It is printing and aesthetics that cast an impact that appeals to consumers, hence both printing and inks are interdependable and critical to the success of a packaged product.
Combine this with constant change in printing technology and substrate upgrades, ink producers are challenged every day to keep pace with such changes and effectively deliver to meet the expectations of printers and brand owners. All of this demands a superior understanding of ink chemistry, printing technology and user behavior by ink designers and producers. Some of the emerging trends that influence our ink design decisions include:
• Sustainability: Leading ink producers are currently focusing on designing and offering eco-friendly inks with superior content of bio-renewable materials and almost non-existent heavy metals and VOCs. Such inks can help the entire packaging ecosystem by meet the global redefined standards. The challenge is to ensure the availability of these products at an acceptable price point without hindering the end to end supply chain.
• Low Migration Inks: Another development being witnessed is low migration inks particularly for food and pharma packaging. In the light of regulatory challenges, ink producers are actively collaborating with brand owners, packaging designers and substrate manufacturers to offer solutions that comply with regulatory protocols.
• Shift from conventional UV to UV LED: Printers are reaping benefits by migrating from UV mercury bulbs to LED curing bulbs. No odor, minimal heat transfer, reduced energy costs and elimination of exhaust lend a big hand to impart a significant reduction in operating costs. We now offer solutions to meet such needs of the printers in offset, letterpress and narrow web applications.
• Barrier coating to replace PE (packaging and e-commerce application): Another interesting development is happening on poly-coated rigid boards with improved barrier properties. The need to minimize poly from such packaging materials prompted us to offer aqueous coatings and OGR coatings to eliminate the use of poly. Interestingly, these barrier coatings are bio-degradable, compostable, recyclable and carbon neutral. They offer a good barrier against fat, oil and flavors. They are printable and heat-sealable too.
• Shift from metalized PET to an aluminum-coated board: Metallized boards are an eco-friendly alternative for metalized PET laminated boards, with applications in industries such as food, cosmetics, tobacco and liquor packaging. Available in both matte and gloss finishes, they offer decorative and protective properties to the packaging. Metalized board is gaining popularity due to its outstanding smoothness, flexibility, high adherence, superior printing and processing ability.
• Ban on toluene-based inks in India: In order to promote food safety, the recent ban on the use of toluene in inks for food packaging is a landmark development. With this, India joins countries that do not use toluene in food packaging inks. According to industry estimates, about 70% of inks used in food packaging are toluene-based. We are fully geared to meet this changing industry requirement and have begun supporting those of our clients who have actively started migration.
• High-speed printing machines: High-speed gravure and flexo printing machines, inline cold foiling, finer aniloxes, etc. are helping printers increase their throughput and reduce downtime. This also helps them give a competitive edge in the crowded market space. Developments such as these are posing newer challenges to ink suppliers to develop suitable inks and coatings.
We at UFlex Chemicals not only understand the rapid changes our industry is experiencing, but are constantly investing in technology to keep pace with changing needs of buyers. The fact that we are constantly growing at an extraordinary pace is proof that the clients in our chosen markets trust us with their problems and accept our solutions.
Ink World: What are the biggest challenges facing this industry?
Rajesh Bhasin: Well, I guess this industry is currently grappling with several issues. However, the key issues include a seriously disturbed supply chain due to shortages and delays in container movement globally and a resultant increase in freight rates. A much more serious and immediate challenge staring at us is the sudden spike in raw material costs. Of course, this is not the first time that we in the packaging industry are experiencing these issues and I am confident that the industry is resilient enough to sail through these difficult times. Some of the changing technical trends too are posing challenges, but as we develop solutions, we see clear opportunities emerging here.
Ink World: How can ink manufacturers best partner with their customers?
Rajesh Bhasin: This is one subject which is very close to our heart. As it happens with every other industry, it impacts the chemicals industry too, no matter that all stakeholders look at this subject differently. However, one cannot deny the fact that it is only long term partnerships that help businesses grow. Mutual trust and respect are at the foundation of this relationship and critical to its longevity. I believe that the competency of the ink producer will be a critical element, which will decide the future of such relationships.
In my long career, I have worked across industries, but the importance and significance of close collaboration that I witnessed in the packaging industry have no parallel. This is simply due to the fact that no two days are the same in a printer's and ink producer's life. Every day brings with it a new challenge and some of them are already discussed in our talk.
At UFlex Chemicals, we not only extend this philosophy to our buyers but to all of our stakeholders as well. Here, we don't view these relationships as transactional but nourish them with long term strategic arrangements, thereby allowing us to complement each other and help the other succeed. This calls for considerable and continuous investment in making ourselves available to our clients, with solutions possible to every problem they may have. And here I bring you back to what I said earlier. The technical competency of the ink producer is an essential ingredient for success. I personally believe that there is further room to improve coordination between the brand owners, printers and ink producers. It is only this close coordination that will allow us to develop solutions to present and future challenges.
Ink World: Along those lines, how do ink companies collaborate with their suppliers to meet each other's needs?
Rajesh Bhasin: As stated earlier, working closely with our stakeholders is fundamental to our business and this privilege is reserved not only for our clients but for our vendors and allied parties too. Building partnerships and collaborating with suppliers to identify solutions to challenges is the only way we succeed. This calls for mutual trust, respect and unconditional commitment towards each other in business associations. Due to this approach, we have witnessed positive results and a win-win situation for us and our suppliers. There have been instances when we have taken our clients' problems to our vendors in order to find quick solutions, thus assuring them our business.
Ink World: What is your outlook for the ink industry in the coming years?
Rajesh Bhasin: I believe this industry has a promising and exciting future. Of course, conventional ways will have to be changed and recalibrated to suit the swift changes that are being witnessed globally. We believe constant investment in technology is mandatory to ensure our future. Those who don't will find the going difficult.
Changing machines, changing substrates, complex designs, shorter brand lives and the need to improve safety on the shop floor are driving change in ink technologies, which in turn will impact our decisions. It is important that we identify these challenges well in advance and prepare to deal with them on priority. These complexities will certainly throw up some exciting opportunities, and those well prepared will be most successful.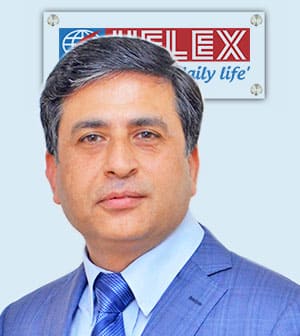 Rajesh Bhasin