Koenig & Bauer
is among the winners of the German Design Award 2019, earning a "Winner" commendation from the German Design Council for the RotaJET digital web press.
The RotaJET already implements a new press design which Koenig & Bauer will be transferring to all other presses by drupa 2020.
A silver and grey color scheme characterizes the outward appearance of the RotaJET, accentuated by a distinctive blue segment with an illuminated company logo and function panel.
"With the German Design Award, we have received a further important prize for our RotaJET," said Dagmar Ringel, head of corporate communications and marketing at Koenig & Bauer. "That is a clear indication that we are on the right track with our modern press design."

The most innovative design developments are celebrated in 50+ award categories in 3 areas – "Excellent Communications Design", "Excellent Product Design" and "Universal Design."
All the prize-winners have previously received nominations from the technical and expert committees of the German Design Council.
The winners of the German Design Award are then chosen by an independent jury of experts from industry, the universities and the design branch.
This year's award ceremony was held Feb. 8, 2019.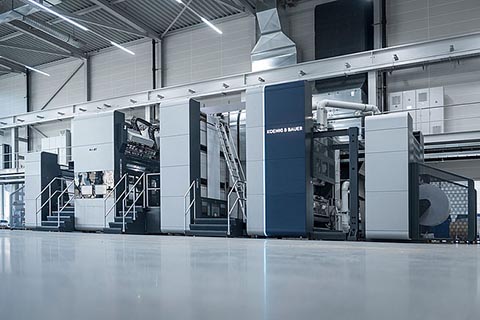 The RotaJET digital web press in the Koenig & Bauer demo center in Würzburg.