Anthony Locicero, Associate Editor

04.03.20



Companies in the industry have shifted their focus during the COVID-19 pandemic to assist in relief efforts. This includes the production of hand sanitizer and personal protective equipment (PPE).
Arkema said it repurposed a production line at its Rhône Alpes Research Center to manufacture 20 tons of alcohol-based solution per week to be distributed free of charge and as a matter of urgency to hospitals in France.

BASF Personal Care started the production of hand sanitizers at different production sites in Europe. The products are being provided free of charge to hospitals, care facilities and other institutions in regions surrounding production plants. The company wants to help overcome the current bottleneck for hand sanitizer that resulted from significantly increased demand.

The German production site of BASF Personal Care in Düsseldorf has already produced and donated 13,000 liters of the urgently needed product and will deliver a further 23,000 liters to a central collection point in the city. From there it will be distributed by the authorities to local medical institutions. Similar programs are underway at other European sites in Spain, France and Italy.
"We know that the supply situation for suitable disinfectants is very tight in Europe. By using our production assets and filling lines to offer disinfectants to hospitals, we are helping fight the current coronavirus pandemic," said Xavier Susterac, senior VP Personal Care Europe.

The BASF Corporation site in Wyandotte has created and produced a hand sanitizer, HandClasp, with the first 1,000 gallons in the U.S. donated to the Henry Ford Health System.

BASF does not regularly produce hand sanitizer at the Wyandotte location, however, the facility received authorization from the U.S. Food and Drug Administration to temporarily produce a safe and high-quality sanitizing product.

The facility has produced over 8,000 gallons of hand sanitizer being distributed to the Henry Ford Health System, and other health care systems in Michigan, Texas, Louisiana, Mexico and Canada, as well as other BASF locations in the US.

"When we learned of the supply shortage of disinfectants for health care systems and hospitals, our technical experts in Wyandotte displayed amazing resourcefulness and collaboration to develop and produce a beneficial antimicrobial product within a few days," said Greg Pflum, VP and GM of BASF's Midwest Hub. "Because of the diligent efforts of our Wyandotte team, BASF will help alleviate the critical shortage of disinfectant agents for front-line health care workers fighting COVID-19 in our communities."

BASF is also providing the states of New Jersey and New York with hand sanitizer manufactured at the company's facility in Washington, NJ free of charge.

The facility will produce approximately 3,500 gallons of hand sanitizer to be distributed to health care systems and government agencies in New Jersey and New York, and other BASF locations in the U.S.

Xerox is producing approximately 140,000 gallons of hand sanitizer by June 2020.

Xerox will produce the sanitizer at its facilities in Toronto and near Rochester, N.Y., distributing the product to resellers who are approved vendors to frontline healthcare organizations.


"This is a time for every company, every person, to look at what they can do to help society," said John Visentin, vice chairman and chief executive of Xerox. "Essentials like hand sanitizer will continue to be in high demand. The team moved fast, figured out how to get over the hurdles and are starting to deliver the product – all in under a month."
InkJet Inc., an industrial printer supplier and manufacturer of industrial inks, uses the same chemicals that are used to make hand sanitizer.
The company's laboratory started producing hand sanitizer at the end of March, following FDA guidelines. This includes supplying hand sanitizer to industrial supply companies, transportation companies, hospitals and healthcare facilities as well as police, firefighters and all first responders.

"Our facility has the capacity to produce large quantities of hand sanitizer and we are eager to help during these challenging times," Chairwoman Patricia Quinlan said. "We, as a company, have a core value that says, 'Build the Tribe,' which means that we must support and help one another, and this is a time to extend that out to the community and our country."

Merck KGaA, Darmstadt, Germany, has built up its own capacities to produce disinfectant in Darmstadt and Wiesbaden.
The company is donating 150,000 liters of this to the state of Hesse.

"The availability of medical equipment and materials remains a pressing problem. I would, therefore, like to cordially thank the company for its donation, which is an important sign of solidarity and willingness to help," said Volker Bouffier, prime minister of the State of Hesse. "The disinfectant will primarily aid doctors and nurses who are working hard to care for people and save lives. Your support has a tremendous effect."
Polymeric Group, a Kansas City, MO-based inkjet and screen ink and coating specialist, has set aside a portion of its manufacturing capacity to produce its hand sanitizers.
"Our R&D team realized that we utilize materials in our normal business that could actually exceed the FDA regulations for a hand sanitizer and disinfectant," said Terry Amerine, VP sales & marketing for Polymeric. "We were fortunate that one of our QC team members makes soaps and bath salts as part of her home business. So, they all came in [recently], on their own time, and worked to develop the formulations."

Thankfully, Amerine said, Polymeric had all the necessary raw materials in stock.
"We have been able to get some of the hand sanitizers to local medical facilities as well as grocery stores and other businesses that are pretty much on the 'front line,'" Amerine added. "The remaining amount we did sell to a distribution company that is better able to get it to the various 'hot spot' areas much more quickly than we could ourselves."

Clariant said it has started monthly production of 2 million liters of disinfectant at its facilities in Gendorf, Germany.
This disinfectant is then directly or via repacking partners provided to regional hospitals and other vital institutions in Bavaria, who are currently facing limited availability of this critical product during the COVID-19 outbreak.

"At times like this, it is vital that everyone, be it individuals or companies, contributes in every way possible to reduce the spread of the virus," said Hans Bohnen, chief operating officer of Clariant. "We at Clariant have the capability to support those working the hardest to protect all of us. Therefore, our employees acted decisively to ensure it was done."
Marabu converted selected production assets to the manufacture of disinfectant – using equipment normally dedicated to digital printing inks.
Marabu formulated a hand and surface sanitizer that meets World Health Organization standards.
The company is giving some of the products to its own staff but donating the vast majority free of charge to the RKH hospital in the nearby city of Ludwigsburg.

"With this donation, we want to help those people who are working selflessly and beyond their limits to provide outstanding care to our fellow citizens," Marabu CEO York Boeder said.
Perstorp started the large-scale production of hand sanitizer and surface disinfectant for the Swedish healthcare sector – at cost price.
Perstorp converted part of the production to now produce hand sanitizer and surface disinfectant.
Perstorp said it can produce more than 2 million liters per month.

"Our large scale production capacity can make a real difference at this time and help to solve the disinfectant shortage in the healthcare sector," Perstorp Group CEO Jan Secher said.
Hydrite Chemical Co. is donating a specially formulated hand sanitizer to support hospitals, healthcare workers and facilities, and food banks in local communities.
HYDRI-SAN 3C Hand Sanitizer is specially formulated according to the World Health Organization's and Food and Drug Administration's guidelines issued during the COVID-19 public health crisis, according to Hydrite.

Mondi's
Personal Care Components team said it found a way to convert a production line at its Gronau plant in Germany to manufacture soft, elastic straps that are now being used for face masks and used by medical professionals and consumers globally.
The straps, which Mondi supplies to its mask-making customers on a reel, are then cut and attached to each side of a mask, which can loop comfortably over the user's ears to hold the mask in place.
This elastic material replaces a rubberized band that holds the mask to the face, thereby increasing the operational speed of the machines in comparison to rubber which is slower.


"As there is an increasing demand for such types of face masks, we are building up our capability to meet this demand," said Dr. Michael Trinkaus, director of R&D and application engineering for Mondi's Personal Care Components division. "By producing this soft elastic strap, we are able to produce more volume to meet growing demand."
In addition to producing its own disinfectant, Marabu's international subsidiaries have provided more than 2,000 protective masks, including FFP2 masks. These will also be donated to the hospital.

Berry Global Group, Inc. said it advanced its investment in an additional specialty melt blown asset to produce high-efficiency filtration media serving the EMEIA markets.
This investment is targeted to meet increased demand and customer growth and will be focused on premium applications, such as FFP2 (N95) and FFP3 (N99) for industrial face mask and cabin air filtration markets.
Current projections are for commercial production to start in the June quarter of 2020.

Novolex has retooled its manufacturing capabilities and repurposed its supply chains to develop products to protect them.
After compressing what would typically be a six to eight-month product development process into three weeks, Novolex is now ramping up its capabilities to produce up to 25,000 face shields and 100,000 medical isolation gowns per week.
"Our facilities are already uniquely equipped to produce food-grade products, so we are thrilled to be able to jump in and use our know-how and engineering expertise to make protective equipment that can really help those on the front lines," said Phil Rozenski, Novolex's VP of Public Affairs. "Novolex is uniquely situated to produce such secondary personal protective equipment (PPE). The company is adopting creative solutions to adapt its facilities which can produce transparent PET sheet and fit-for-purpose injected molded plastic fittings to make components for face shields."
Phase 3 Marketing and Communications, which operates three print and fabrication facilities in Atlanta, Dallas and Fairfield, NJ, has created two healthcare personal protective equipment (PPE) solutions, clear rigid vinyl face shields and workplace protective acrylic barriers.
Phase 3's PPE Face Shield provides extended face protection for medical professionals with its 12-inch by 10-inch clear rigid vinyl shield face. The vinyl offers good clarity and the face shield can be easily cleaned with rubbing alcohol. The face shield is assembled with foam pads for shield distancing and comfort, and an elastic band that secures the face shield to the user's head. Each shield will be individually polybagged and bulk boxed in sets of 25.
Phase 3's Workplace Protection Barriers are acrylic, crystal-clear barriers that provide protection and peace of mind from the front desk to the production floor. Two styles are available, the freestanding protective barrier, which is movable and intended to be place on reception desks and the hanging protective shield, providing safety in other public areas.
Lubrizol announced a $2 million donation commitment to support COVID-19 needs globally.
The company said it plans to leverage its science for hand sanitizers, medical gowns, face masks, drug products, medical devices, transport vehicles and more.
That includes an additional 1 billion bottles of hand sanitizer globally every month by increasing its Carbopol production.

"The Lubrizol Life Science business is experiencing unprecedented increases in demand for our Carbopol polymers related to the global shortage of hand sanitizer," said Bernardo Medeiros, GM Lubrizol Life Science.

Smurfit Kappa launched a new "Design for Help" portfolio of products to help alleviate some of the current challenges being experienced during the COVID-19 pandemic.
The first products that made their debut in a Smurfit Kappa plant in France were corrugated workplace dividers.
These were used to protect people who work closely alongside each other so they can maintain a safe distance while carrying out their jobs.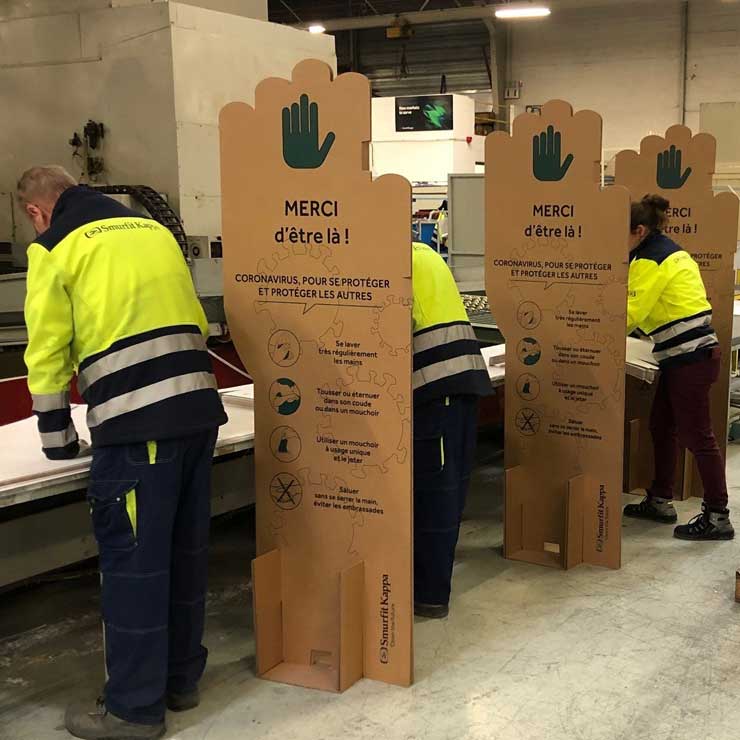 Cummins Inc. and DuPont are helping address the nation's shortage of N95 respirator masks.
Cummins' NanoNet and NanoForce Media technology, which uses DuPont's Hybrid Membrane Technology (HMT), can typically be found in air, fuel and lube filtration products used in heavy-duty diesel engines to prevent long-term engine wear, but also can be used in the N95 respirator masks worn by healthcare professionals to filter harmful airborne particles that can spread COVID-19.
While DuPont's Hybrid Membrane Technology is typically integrated with Cummins' synthetic fibers to protect sensitive engine components, it has multiple other applications that can include filtration media used in N95 respirator masks.

Eastman Brazil is donating its copolyesters to two companies for use in the creation of protective equipment: 3D Lab, a manufacturer of 3D printing filaments; and MMS Plásticos, a Brazilian plastics distributor.
3D Lab is using Eastar copolyesters to help create face shields for the protection of healthcare workers in the country. The face shields are expected to be ready to distribute free, mostly to public hospitals, in early April.

MMS Plásticos will use Eastman Cadence copolyester to help produce the face shield cover. These protective masks will also help preserve the health of medical professionals in Brazil.
Other ways of helping
With news of school closures and other community concerns due to COVID-19, the International Paper team in Savannah, GA donated nearly 2,000 boxes to local food bank Second Harvest that will support school meal distributions.
"We understand that right now the need and demand for our products is greater than ever," said Jay Wilson, mill manager, International Paper. "The boxes we provide are an essential resource to help our local community address food insecurity and get the necessary supplies to our children and their families."