Consort Display Group was founded in 1983 as Kalamazoo Banner Works, Inc. by architect Roger Lepley (KBW).
The company offered street banner mounting hardware created to dissipate wind force. KBW/Consort installed hardwearing banners for museums located outside Chicago.
For more than three decades, Consort Display has become a source for outdoor banners and displays, stands, retail furniture, pennant flags, light pole banners, and wall-mounted signs.
Its product line, manufactured in Southwest Michigan, features brand names such as BannerFlex, Dori Pole, Podia, Abstracta, and DisplayOne.
To grow to the next business level, Lepley, the company's president, recognized the need to automate the production of graphics being screen printed on Sunbrella fabrics.
Tests of inkjet printers took him to Atlanta, Chicago, and Toronto, Canada.
Lepley's research led him to the
Agfa's
Jeti Tauro H2500 LED, a hybrid UV inkjet system featuring speeds up 275 m2/h (2,960 ft2/hr) and prints up to 2.54 m (100") wide.
"The only solution that could do what we wanted with the media we use was the Jeti Tauro from Agfa. It is incredibly fast and has helped us automate productivity with graphics that are rich and vibrant on challenging weather-resistant substrates," Lepley said.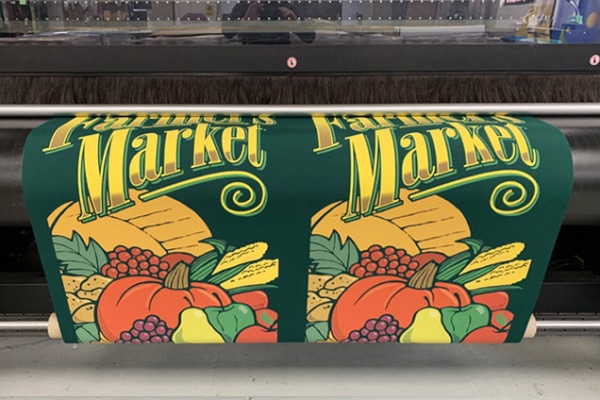 Instead of a screen-printing technique using mesh to transfer ink onto the Sunbrella fabric one color at a time, Consort Display has the advantage of using the Jeti Tauro inkjet printer with six colors plus white to achieve fast throughput of graphics in one run.
Agfa UV LED inks cure fast and perform well on a variety of rigid and roll media, including Sunbrella fabrics.
"Sunbrella media requires proficient white ink application. The density and intensity of the Jeti Tauro H2500 LED inks set it apart," Lepley said. "The Tauro handles white ink printing with ease. Layering color on top of the white ink makes the graphics pop, and we're able to achieve close to traditional screen print quality, but now surpass that with smooth gradients and four-color process printing. The inks are amazing on fabrics, roll or board media, and stand above other manufacturers."