ACTEGA Metal Print GmbH
announced that German print specialist Kolbe-Coloco Spezialdruck GmbH is the world's first beta customer for its metallization technology, EcoLeaf.
Focusing on high-end applications, the company will use the new solution to print profit-driving metallization embellishments onto self-adhesive labels for a broad variety of markets. The company cites the eradication of foil and its sustainability advantages as a key decision.
The EcoLeaf operator training and unit installation on the company's all-servo 12-color press, with a combination of offset, flexo and screen all inline Gallus RCS, began in early March 2020.
"Our business is focused on print services that create a greater connection between a brand and the consumer, to ultimately aid sales. We do that by employing some of the best print technologies on the market, and EcoLeaf is a perfect example of this," said Michael Leon, managing director, Kolbe-Coloco.
"Eradicating foil is a huge and incredibly important milestone in our industry, and this technology looks poised to support that. For this reason, we have no doubt that our customers will embrace EcoLeaf with open arms, but we also know that they will love the opportunity to add cost effective and amazing metallization to their jobs too – this solution has the potential to be a serious game changer," continued Leon.
The basis of EcoLeaf is a silver pigment that can be overprinted, leading to a rainbow of metallic colors including gold. Integrated inline on analog presses, digital printing presses or finishing equipment – either new or retrofitted to existing equipment – EcoLeaf consists of a printed trigger image and a metallization unit that applies only the precise and required amount of metal to the trigger image.
"In Kolbe-Coloco we've found a likeminded and very innovation-driven business," said Jan Franz Allerkamp, managing director of ACTEGA Metal Print. "One that operates an automated, clean and very professional environment, but a company that has already proved itself to be a real change-maker."
EcoLeaf will be commercially available from Summer 2020 onwards.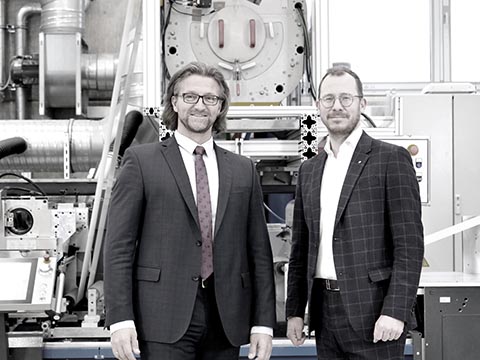 Michael Leon, managing director, Kolbe-Coloco & Jan-Franz Allerkamp, managing director, ACTEGA Metal Print.