The Specialty Graphic Imaging Association (
SGIA
) chose
Durst
large-format digital printers as "2019 Product of the Year" in their respective categories.
The Durst Delta SPC 130 printer was selected as the industry's best in the Single Pass technology category, and the Delta WT 250 printer received the honor in the RTR/Hybrid/Flatbed new technology or inkset category.
"All of us at Durst are extremely pleased and proud to receive this verification from industry professionals who know best how to benchmark quality and performance," said Tim Saur, CEO & managing director for Durst U.S. and Canada. "Our Delta line of printing solutions offers print service providers the best option for satisfying client demands while strengthening their overall business operations. We take great pride in being selected as a winner in this prestigious competition."
The Delta SPC 130 is based on the latest generation of Durst single-pass printing systems. The Delta SPC 130 combines a well-engineered mechanical design with easily accessible sub-assemblies and selected components to guarantee durable quality, high performance and reliability. The SPC 130 prints with a maximum of 6 colors on small formats from 20 x 24 inches through to very large formats with maximum dimensions of 51 x 82 inches. This is a printing system that offers unrivaled versatility, low maintenance requirements and 24/7 reliability.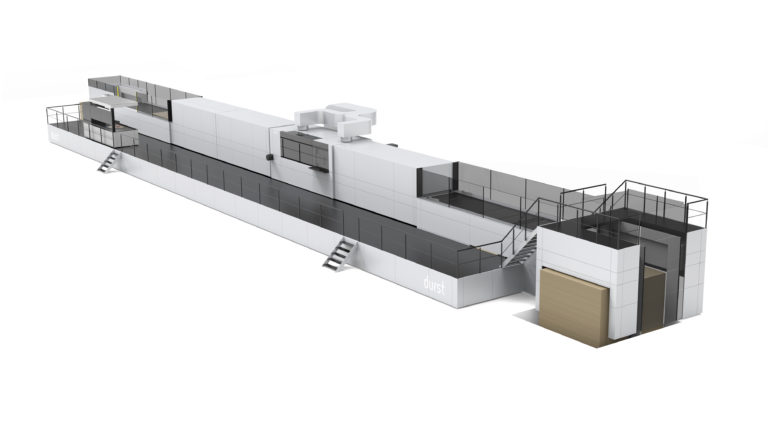 With Durst Water Technology, the Delta WT 250 is especially suitable for applications where the highest quality and odor free printing is required, such as in-store displays, short-run packaging and prototyping. With Durst Water Technology inks and 1000dpi, the print is truly comparable to litho. It is capable of printing in single or dual sheet loading modes, with a fully automated load/unload option for maximum efficiency.