John Roberts (Minneapolis, MN) recently signed the first
Heidelberg
Subscription contract in the U.S.
John Roberts' subscription contract includes a new Heidelberg Speedmaster XL 106-6+L as well as Saphira Consumables, parts, performance consulting, and service.
Everything will be provided by Heidelberg for a monthly fee based on the number of printed sheets produced each month. Heidelberg will also work with John Roberts to analyze its current operations and establish goals for improved production and reduced cost-per-sheet.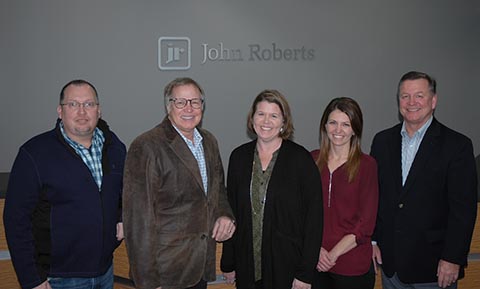 Replacing two older Heidelberg presses, the Speedmaster XL 106-6+L will help open 30% more daily capacity for additional jobs. The press boasts maximum production speeds of up to 18,000 sheets per hour. Equipped with "Push to Stop" technology, the Speedmaster's jobs can be autonomously changed without operator intervention. The press can continue to print until the operator interrupts it.
"We take great pride in staying ahead of the competition, and this equipment will deliver the highest quality at optimum performance," John Roberts Chairman and CEO Michael Keene said.
"With the consolidation of consumables, service support and performance meetings, we know that this subscription model is going to be great," said Scott Zorn, VP of operations at John Roberts. "In order for us both to be successful through the Heidelberg Subscription model, we need to improve our efficiencies on the press."
Pictured (L-R): Scott Zorn, VP of operations; Michael Keene, CEO; Marnie Janezich, president; Emily Schultz, director of client services; and Mark Carlson, EVP of sales./Courtesy Heidelberg