Graphic Packaging International
won the Folding Carton of the Year award at the 2018 Paperboard Packaging Council's carton competition, which was held Oct. 25 in Atlanta, GA.
Graphic Packaging's distinctive gable top carton design for the Kellogg's EXTRA Creations range of cereals triumphed in the competitive folding carton category. The carton, which is designed to reflect the gourmet indulgent nature of the cereal, features a unique, premium shape, rich graphics and gold foil stamping. Spot high-gloss coating and embossing on the ingredients panel take the graphics to the next level and communicate the quality of the product. Additionally, the shape and structural design of the carton improve shelf stability as compared to traditional cereal cartons.
"In a category dominated by traditional rectangular cereal boxes, this carton stands out from the crowd and signals to consumers that it contains a cereal that is new and different," said Jean-Francois Roche, GPI's VP, global accounts. "We're proud of the design and development that the team executed to deliver a premium product in a beautifully functional package for our customers, and ultimately, their consumers."
In addition to the top folding carton honor, Graphic Packaging also won 16 Excellence awards and seven Gold awards, including designs for Heineken's 18-bottle CoolerPack, Kellogg's Advent Calendar sleeve, LoneRider Brewing's six-can wrap, Kellogg's SuperMario Interactive NFC Amiibo carton, McDonald's Buttermilk Crispy Tenders carton, and ConAgra's Wicked Kitchen Mac & Cheese and Hand Pies microwaveable packages.
"These awards validate Graphic Packaging's constant drive for innovation and our steadfast commitment to enhancing our customers' brands and market presence," said Bill Sedlacek, GPI's VP, innovation and new business development.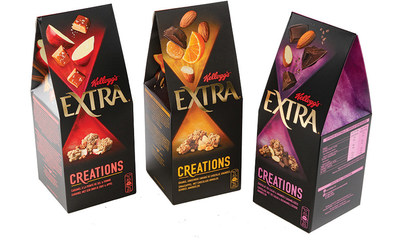 For a full list of winners,
click here
.