Inland Packaging
has been recognized by
TLMI
with two Best of Class awards, one for the Arizona Green Tea Shrink Label and another for the Reser's Deviled Egg Potato Salad injection in-mold label.
The Arizona Green Tea 9 color shrink sleeve label received a First Place Best of Class in the Roll to Roll category. The Reser's injection in-mold label on a clear substrate was awarded First Place Best of Class in the Non-Pressure Sensitive – All Processes/Cut & Stack – Color Process – Prime category.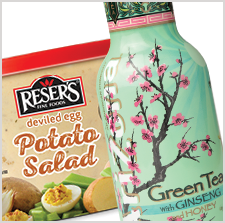 "As an active member in TLMI, we are very pleased to be honored for our print abilities across our product portfolio," said Jackie Kuehlmann, director of marketing for Inland Packaging.
Photos courtesy Inland Packaging/AriZona Beverages (drinkarizona.com)